Rage at drag act for babies, as naked man in thigh-high leather boots performs bondage routine for kids and parents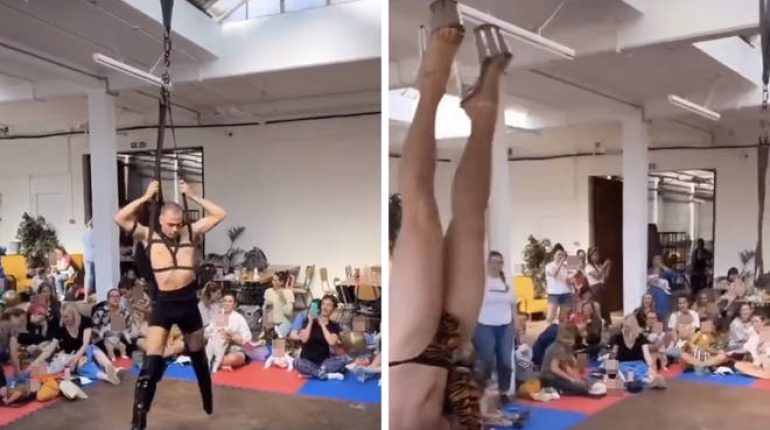 Posted March 2, 2023 by: Admin #News
A recent event called the CabaBabaRave show has been receiving backlash online after footage emerged of performers in bondage gear and thongs dancing in front of babies and their parents. The show markets itself as a mix of cabaret, baby sensory moments, and a rave. The viral video shows one performer, Benloader Circus, dressed in bondage gear performing aerial acrobatics while hanging from the ceiling. Another performer is seen doing a handstand on a chair while wearing only stilettos and a thong. The footage was called "sickening" and "absolutely abhorrent" by critics.
Advertisement:
Organizers of the event defended the show, stating that it was curated specifically for young babies and their parents. They also argued that the babies would not understand the content of the show. However, critics argued that the parents who brought their babies to the event were to blame for exposing their children to such inappropriate content.
The performers, Ben Loader and Miss Lucinda B. Hind, have received criticism on social media, with some people losing respect for them. Actress Amanda Abbington also expressed her disapproval on Twitter, saying that she lost followers for speaking out against the inappropriate performance.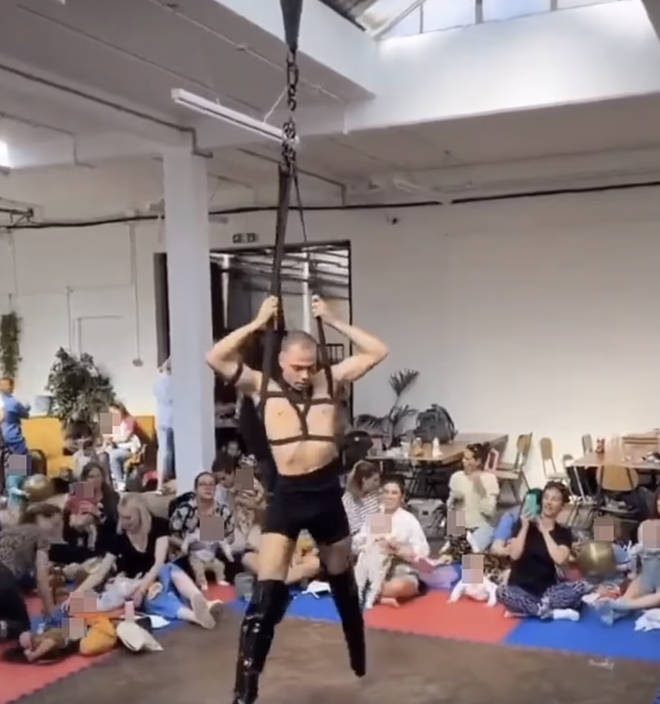 Advertisement:
The advertising for the CabaBabaRave show highlights how the cabaret was created by two mothers who were "constantly looking to be entertained whilst holding a baby in one hand and a pint in the other". They also wanted to create a big London night out experience that would be appropriate for parents and their babies. The promotional material for the show at the Fox and Firkin, Lewisham, adds, "There's only so many times you can listen to the f****** Wheels on the Bus."
The organizers of the event have had to set their social media profiles to private after receiving a "horrific trolling attack". They emphasized that their shows are specifically curated for their audiences, and the shows for young babies are aimed more at the parents, who are often new mothers on maternity leave looking for a much-needed break.
The organizers also drew comparisons to "parent and baby showings" at cinemas and other adult-led events where parents can bring their babies along. They argued that cabaret is a fantastic medium for showcasing diverse and inclusive performances, including those from drag, trans, and non-binary performers.
Advertisement:
The CabaBabaRave show has a sold-out event at The Vaults in Waterloo, south-east London, on March 11, with further events scheduled to take place until the end of May. The controversy surrounding the show has sparked a debate about what is appropriate for young children and whether parents should be held responsible for exposing their children to inappropriate content.
Advertisement:
Next: Breastfeeding mum left traumatised after being harassed by women in bar toilet as she pumped milk
READ IT!
Advertisement:
Thanks for your SHARES!
You May Also Like
Add a comment